You have decided to start an eCommerce company. eCommerce is one of the most successful businesses and is still growing.
There are more than 24 million eCommerce websites in the world. The total global sales that people and businesses will make via eCommerce is predicted to reach $4.9 Trillion by 2021.
Given the intense competition in the eCommerce industry, it is crucial to consider various factors that can increase your chances of winning the market. Here are the 5 most important factors that can help you succeed as an eCommerce entrepreneur.
1. Know your customers
Your analytics has a treasure of data about your customers. Use the insight to know as much as possible about your customers.
When you know who your customers are and what they want, you will be able to better target them and optimise your website for conversion. The key details that you should know about your customers include:
Age
Gender
Location
Preferred payment methods
The products they search after landing on your site
The way they navigate your ecommerce store
The way they shop (seasonality and type of day, devices, and average spending)
Analytics tools like Finteza provide detailed insights to ecommerce businesses. You can analyze the potential popularity of specific items, define the actual sales value, and evaluate customer loyalty. Finteza also enables you to identify the most profitable and unprofitable product categories.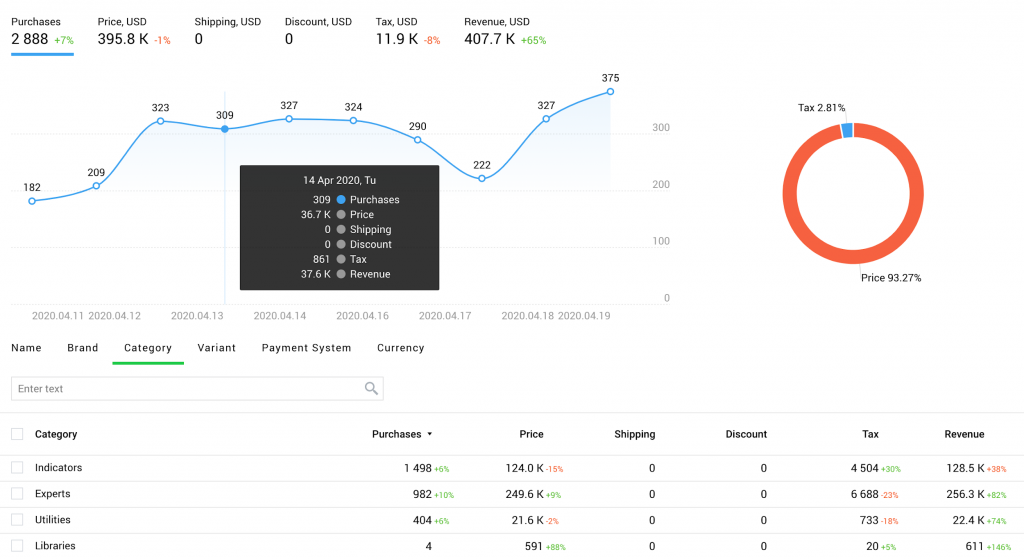 Use these data to personalise your website experience and entice your customers to purchase.
2. Help the community
When you help the community, it shows that you are not in the business just for money. Being a socially responsible company will increase your brand reputation within your locality. Even the press will be more likely to cover your activities, thereby widening your reach.
Another benefit of helping the community is that it increases word-of-mouth marketing. People trust recommendations from friends and family. Buyers will be more likely to purchase from you if you are recommended by someone they know.
As an eCommerce entrepreneur, you barely get any chance to interact with your customers. Getting involved in your community lets you understand your customers (and their pain points) better.
Mercato is a great example of an eCommerce company helping the community. Mercato is offering free delivery to the elderly (60 years of age and older) in the wake of COVID-19. Senior citizens are the most vulnerable to the novel coronavirus. Mercato just gave them one more reason to not to step outside their home.
3. Seek the advice of an accountant
When starting your eCommerce business, you might be handling the accounts yourself. However, as your business grows, it is crucial to seek the services of an expert accountant.
Accountants have the skill to provide you with financial and strategic advice. They also follow the best practices of accounting procedures, thereby preventing your business from any legal issues (e.g., fine).
As a startup, you need different ways to expand your income and decrease your expenses to grow your business rapidly. An expert accountant can take your business goals into account and create a plan to achieve them. Here are some ways your eCommerce business can benefit from an expert accountant:
Acquiring business licenses
Incorporation filings
Managing purchases and refund statements
Financial statements
Tax preparation and audit support
Financial planning (forecasting, budgeting, and reporting)
Reconciling your business banking and credit card account
4. Establish trust with your customers
When it comes to buying online, customers usually turn to brands they trust the most. You also need to make your first-time visitors comfortable and give them reasons to trust you with their money. If not, you will see a massive decline in conversion rates. Here are three best ways to establish trust with your customers.
Be transparent
As an eCommerce business, you have zero physical presence. Thus, the need for being transparent is very high. Make sure your customers can see:
Who are you? How and when can customers contact you?
How does the product look from different angles?
How quickly can they cancel an order?
How long does it take to receive a refund?
How will the return take place?
Incorporate trust signals
When customers buy from you, they expect you to provide genuine products from legit manufacturers. They also expect you to safeguard their credit card information from fraudsters. Therefore, it is crucial to incorporate trust signals, such as:
Reviews
Genuine product seals
Links to your social accounts
Third-party badges and certifications
This example of Tourneau demonstrates how to incorporate trust signals. Tourneau showcases its authenticity with an authorised retailer seal.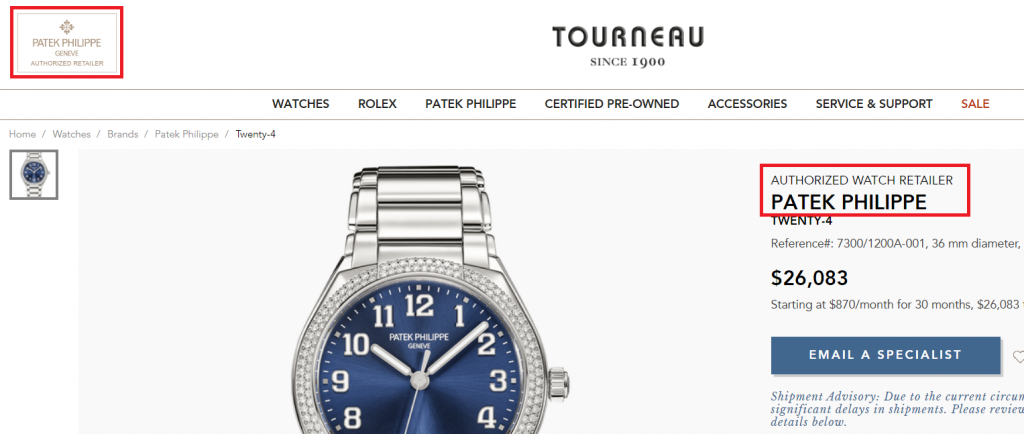 Be social
Social media has become an integral part of our daily lives. The primary reason customers trust eCommerce brands with a wide-spread social presence is that it is easy to communicate with them using social messengers. Also, brands never ignore any query or complaint raised against them in social networks.
Create business accounts on every major social platform, like Facebook, Instagram, and Twitter. Also, consider creating accounts on social networks where you think your customers are spending their time on.
5. Leverage multiple advertising channels
Using different advertising channels can help you widen your reach and increase the customer base. Here are some of the best advertising channels for eCommerce brands:
Google Ads: Google is the most used search engine in the world. By placing ads on Google, you increase your online visibility instantly.
Facebook Ads: Facebook is the most popular social media network. Make the most of its reach by running ads on the platform. Facebook Ads give you a lot of powerful targeting options to narrow down your audience list and increase the chances of conversion.
Instagram Ads: Instagram is yet another popular social media channel. Just like Facebook, you get to create a custom audience list.
Email Marketing: It is the most cost-effective sales channel. Email marketing allows you to connect with your customers directly. Make the most of it by sending emails to your customers and let them know about any new products or sales in your store.
Content Marketing: Content marketing helps you address your customers' concerns. Content marketing also supports your SEO, increasing your chances of ranking on the top of search results.
Final thoughts
Succeeding as an eCommerce entrepreneur isn't easy. But with the right factors, you can increase your chances of succeeding. Make efforts to know your customers and how your products can solve their problems.
Help the community in a way you can. Hire an expert accountant to handle your business's finances. Establish trust with your customers and leverage multiple advertising channels to increase your reach and the conversion rate.