Product reviews can be a valuable asset to any online store, but sometimes they can become more of a hassle than a benefit. Whether you're dealing with spammy or fake reviews or you just don't want to manage and moderate them, disabling product reviews can be a simple solution.
If you run an online store with Magento 2, disabling product reviews is an easy process that can be accomplished in just a few steps.
In this article, we'll walk you through how to disable product reviews in Magento 2 so you can streamline your store management and focus on what really matters: selling your products. Also, we will touch on the solution for Reviews and Ratings in Magento store that will help you get the most out of user-generated content.
Why Disable Product Reviews in Magento 2
There could be several reasons why a business owner might want to disable product reviews in Magento 2, including:
Negative Reviews
If a product has received several negative reviews, it could affect the overall rating of the product, which in turn could discourage potential buyers from purchasing the product. Disabling product reviews could help prevent negative feedback from being displayed and potentially damaging the business's reputation.
Lack of Resources
Managing product reviews can be time-consuming and require a significant amount of resources. If a business owner does not have the resources to actively manage product reviews, disabling them could be a viable option.
Product Type
Some products may not be suitable for reviews. For example, if a product is a one-time purchase or has a limited lifespan, there may be little value in collecting reviews for it. Disabling reviews for such products could save resources and prevent clutter on the website.
Spam and Fake Reviews
Product reviews are susceptible to spam and fake reviews, which can negatively impact the credibility of the website. Disabling reviews could help prevent such fraudulent activities and protect the business's reputation.
Different Priorities
Finally, a business owner may simply have different priorities for their website and choose to disable product reviews to focus on other aspects of their business, such as sales and marketing.
Steps to Disable Product Reviews in Magento 2
Whatever your reason for disabling Magento 2 product reviews is, it is a straightforward process which includes just a few steps:
Step 1: Log in to your Magento 2 admin panel
To get started, log in to your Magento 2 admin panel. This is where you'll be able to access all of the settings and configurations for your store.
Step 2: Navigate to the "Stores" tab
Once you're logged in, navigate to the "Stores" tab in the left-hand menu. From here, click on "Configuration."
Step 3: Disable product reviews
Next, scroll down to the "Catalog" section and click on "Catalog." Here, you'll be able to disable product reviews by toggling the "Enable Product Reviews" switch to "No."
Step 4: Save your changes
Once you've disabled product reviews, make sure to save your changes by clicking on the "Save Config" button in the top right-hand corner of the page.
That's it! Disabling product reviews in Magento 2 is a quick and easy process. By following these steps, you can prevent spammy or fake reviews and simplify your online store management.
Advanced Product Reviews & Reminders by Mageworx
The Advanced Product Reviews & Reminders extension by Mageworx is a powerful tool for Magento 2 store owners who want to take their product reviews and customer engagement to the next level.
This extension offers a range of advanced features that allow store owners to increase their customer satisfaction and loyalty, as well as improve their overall sales. Here are the top 5 features:
Customizable review forms. With this module, you can create custom review forms that allow your customers to provide detailed feedback on your products. You can choose different display modes and enable or disable certain fields as needed.
Automatic review reminders. This extension allows you to set up automatic review reminders that will be sent to your customers via email or SMS. You can customize the frequency and timing of these reminders, as well as the message content.
Moderation and filtering tools. The Advanced Product Reviews & Reminders extension includes advanced moderation and filtering tools that allow you to manage your reviews more efficiently.
Advanced analytics and reporting. The module also provides advanced analytics and reporting tools that allow you to track your reviews and customer engagement. You can view detailed reports on your review ratings, customer feedback, review reminders, and more and use this information to make data-driven decisions for your business.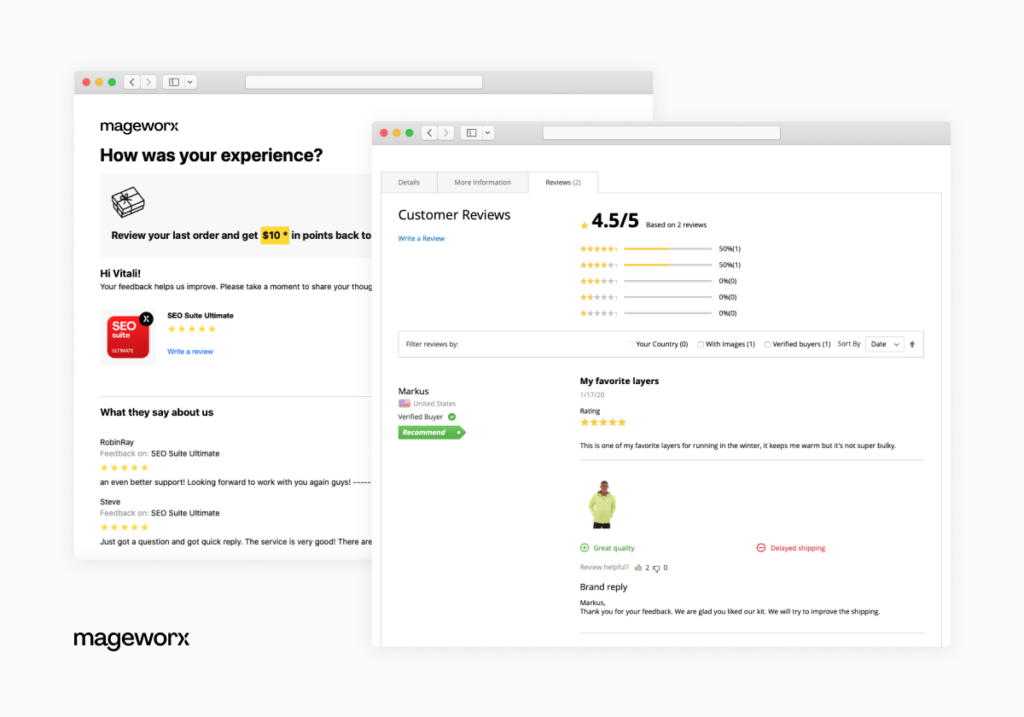 Conclusion
Disabling product reviews in Magento 2 is a straightforward process that can save you time and hassle in managing your online store.
Whether you're experiencing spammy or fake reviews or simply don't want to deal with the hassle of moderating them, disabling product reviews can be an effective solution.
By following the steps outlined in this article, you can quickly and easily disable product reviews in your Magento 2 store and focus on growing your business. Remember to periodically review your decision and enable product reviews again if you believe they can be beneficial to your online store in the future.