Whether or not you are familiar with email signatures, this is the right time to learn more about it, as it has already become one of the most effective marketing tools.
What is an email signature?
An email signature is a block of text added at the end of a professional and business-related one email message. This element mostly contains all the necessary contact information of the sender, such as their phone number, email address, website, and job title.
Think how logical it is.  Who would want to look for extra information regarding the company or sender's contact details if they've got interested in the product or service? No one has time. That is why to catch a warm lead; you should provide all the necessary information at once.
Email signature as a part of your brand strategy
These days email signature does not only give a more professional look to your email. It had also become a tool for increasing brand awareness and a great marketing opportunity.
According to the study of Radicati Group, on average, 269 billion emails are sent every day all over the world. Just think about this number once again – 269 billion emails!


Source: Radicati Group
And the average office worker can send and receive about 150 business emails every day. Do the math how many emails you and your employees are sending for one month and one year, imagine that all these emails contain branded signature with logo, appropriate colours, slogan and a website link. Will it make a difference? Surely, it will.
As for now, all your hesitations as to whether or not utilize email signatures should fade away, and you should be thinking about how to do it properly and efficiently and how to make the most of your email signatures. And the first thing that you should take into consideration is to have a smart design.
Good design is a key in successful email signature marketing
Since email signatures contain the text, it is a good idea to think about the choice of fonts and colours that will fit your company's branding guidelines. Remember that every small detail matters. Everything should 'speak' about your brand and your company.
Also, it might not be the best idea to use very complex fonts.  Remember the rule of simplicity, so keep everything clear and simple. Often less is more.
Always define the focus of attention and think about which part of the signature should be highlighted with bold fonts and which part is less relevant. If everything is equally important, use the same size and type of font.
If you are to use the colour, think carefully about which colour will best represent your company. Make it all cohesive and relevant to what your company is doing.
And never forget about the consistency. Once approved, the same design scheme should be used by all the employees. Only in this case, you will be able to raise your brand awareness with the help of email signatures.
After you have chosen and approved the best design for the email signature, you can start using and reaping the benefits of email signature marketing.
What Is email signature marketing?
Now having brand email signatures in all emails, your employees send reveals a new marketing opportunity. Think about the real estate under your contact details. You can use this space to introduce or emphasise a new product feature or special offer. When you segment your mailing list for cold outreach or planning follow up sequences, add personalised call-to-action to your signatures to support your message goal.
In this case, utilising signature banners is the best solution. The attached email signature banner can provide additional information needed and indirectly advertise all the important updates or events that your company might be holding or participating in.
Such a banner can also inform the recipients about the upcoming sales or discounts; they can showcase yours and your employees' awards and certificates, which add even more credibility to your company.
Ideas of how to efficiently use email signature banners
Share your blog posts
If you are not quite satisfied with the number of readers visiting your blog, then you should think about the ways of promoting it. And the easiest way to promote your blog post is by simply adding a link to your blog to the email signature.
Adding the text like "Read my Blog" or "My Latest Blog Post," or "What I Was Up to Recently" and the relevant link, you will surely increase your blog attendance.
Offer to download e-book or report
Are you an avid researcher with tons of interesting ideas that you included in your report? Or maybe you have already created an e-book with some reports and case studies?
Don't wait to be accidentally discovered, take an active approach and include the link for downloading your report or e-book in the email signature. Let the world know who you are!
Share recent case studies
An email signature is one of the best ways of sharing recent case studies.
Let your leads know more about your company and the experience that you have. By sharing case studies with others, you show that you trust people and let them see everything from the inside out. Besides, practice is always better than theory, so show people instead of simply stating how great you are.
Special offers, and promotions
If you have special offers or promotions and want to let your customers know about these opportunities, you can do so via email signatures. You can either include the promotion in the email signature banner linking it to the website page where one can learn more about the offer.
 Add request a demo button
Receiving an email from you regarding your products or services, some people might be interested at once. But more often, others might still have doubts if this is something they need.
By simply inserting the button Request a Demo into your email signature, you make it easier for people to get familiar with your product. And making a product presentation usually doubles the chances of onboarding a customer.
Share your apps in Google Store or Apple Store
Do you create some functional applications? If so, don't hesitate to spread the word about them, as many people might find them useful.
Share your apps in Google or Apple store and include a link to them in your email signature.
Promote an upcoming event
Is your company hosting an important business event? If so, you should use all the resources to promote the event, as many people might learn something new and important during one.
Include the relevant event details in the email signature banner and be ready to see many people attending the event.
So, if you haven't used an email signature yet, try it out and see if it makes any difference. It's always better to try something new than to regret later of not putting enough effort.
How to create a professional email signature
As of today, constructing an email signature is a very simple process. There are a couple of ways to create a professional email signature:
Using email signature generators
You can create email signatures using signature generators like Newoldstamp, Mysignature, or any other. Those tools allow you to create customizable signatures without coding and design skills. You can easily add all your contact information, social media links, photo/logo, CTA buttons, and banners. One disadvantage of this variant is the limited quantity of templates. But don't be afraid to customize them for your purpose.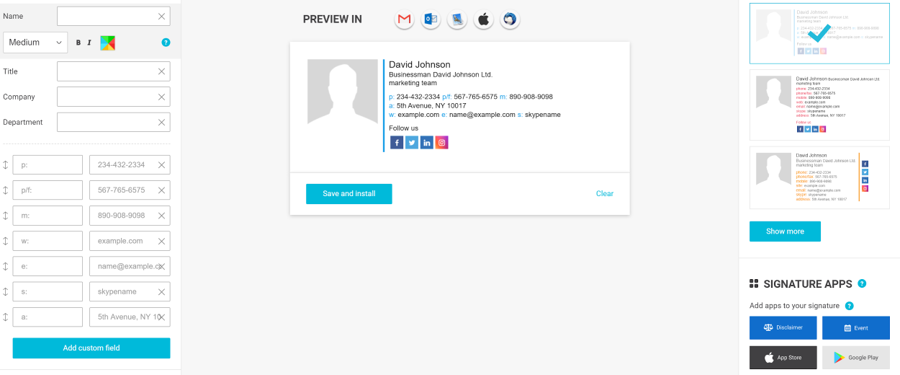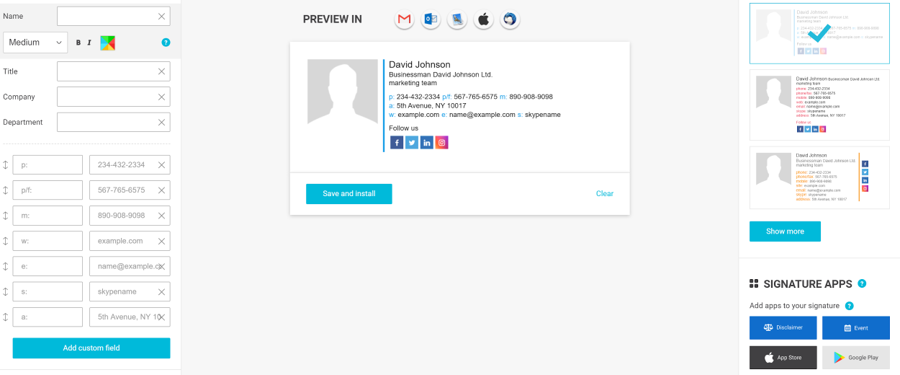 Coding a signature yourself or hiring developers to do it
Another popular way of creating an email signature is to code it (using HTML). It is not a bad option, but you need a lot of resources like hiring developers, spending time for coding and testing, and of course, money for all of it.
Creating an email signature in a text editor
Here you use Microsoft Word or Google Docs. Just go to a new doc and start creating your signature with text, links, and photos. Yes, it is cheap and easy, but you may have problems with visibility and formatting in most email clients and devices. So, try to avoid this option.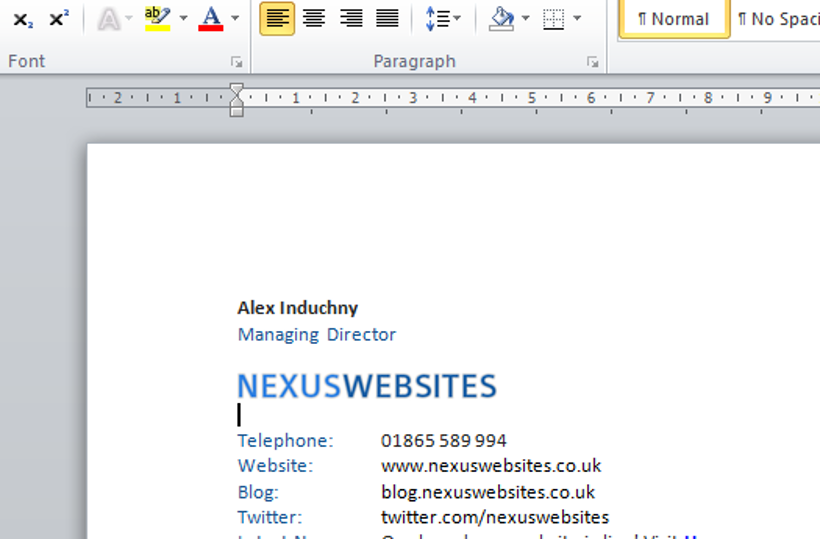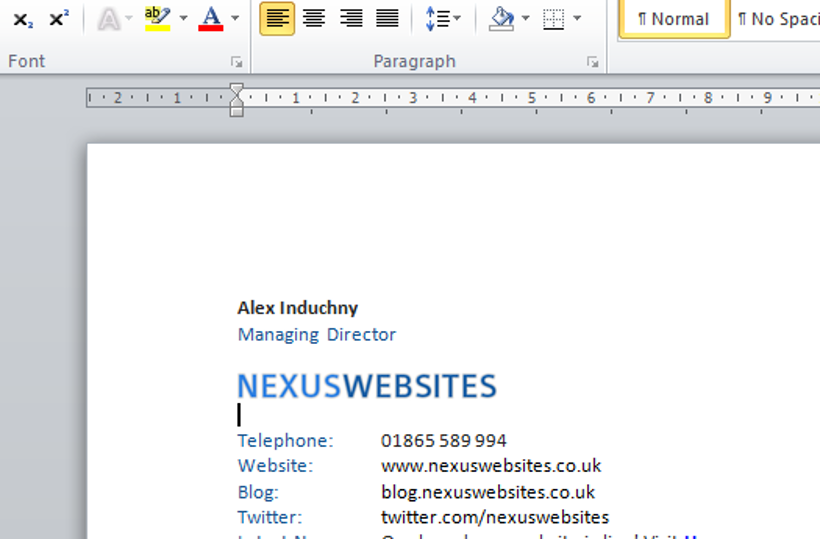 Using image editors to create your signature
If you're a Photoshop master, this option is the very first choice for you. With image editor feature, you can make your own beautiful design without any restrictions. You have an option to use all types of fonts and colours, images, social icons. However, there is one problem – your email signature won't be interactive, so in the end, you will get only one image that can have just one link. Also, your email may go to spam if your signature is just a large image.
When you have your signature-ready, you can install it within your email provider, including Gmail, Outlook, Apple Mail, Thunderbird, and Yahoo Mail. However, remember to test your email signature properly so that it works on all devices and in all email clients.