The first step to starting a successful business is to get your business plan ready. Creating a business plan from scratch is a taxing task and thus, using a template is a good way to get started. Templates also give you an idea about what a basic business plan should look like, especially if you are setting up a new business without any prior knowledge.
Many online sites offer digital templates that you can use. You do not always have to pay for a template, as many sites offer free business plan template PDFs. And while printing one is an option, given the digital nature of today's business world, knowing how to use a PDF editing tool is important. As such, in this post, we show you different ways to edit a PDF business plan template.
How to Use a Free Online PDF Editor
The easiest and quickest way to edit a business plan PDF template is with the help of an online PDF editor tool such as FormatPDF.com. Online PDF editing tools make it easy to do more with a PDF without the need for downloading any additional apps or using up your computer's memory.
An additional advantage of PDF editing sites is that you can use them on any device with an internet browser. Here is how you can use this website to edit a business plan template:
1. Once you have downloaded your business plan template PDF, open FormatPDF.com in your device's browser, and click "English" in the top right corner.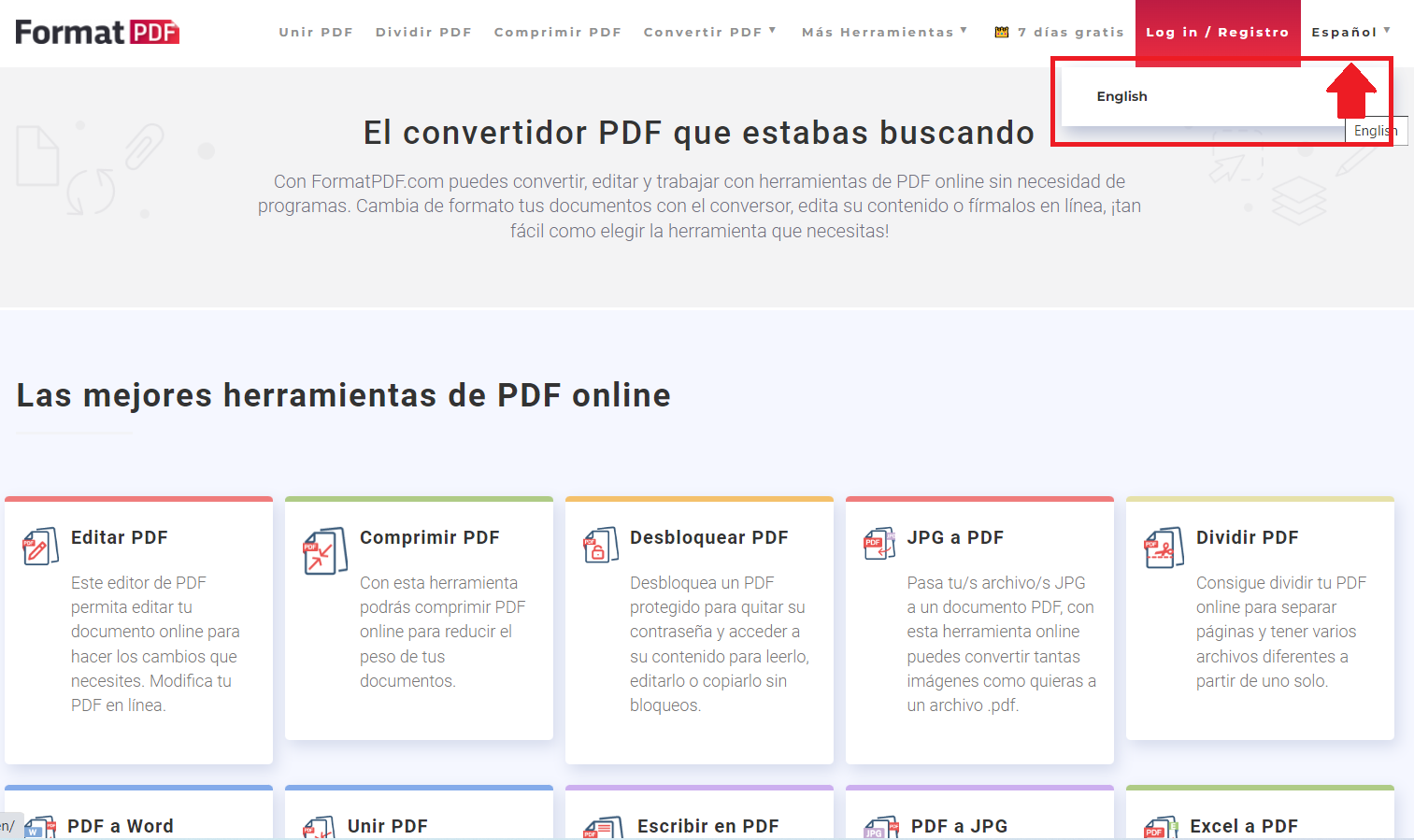 2. In the menu bar, click on "More Tools" and click on "Edit PDF".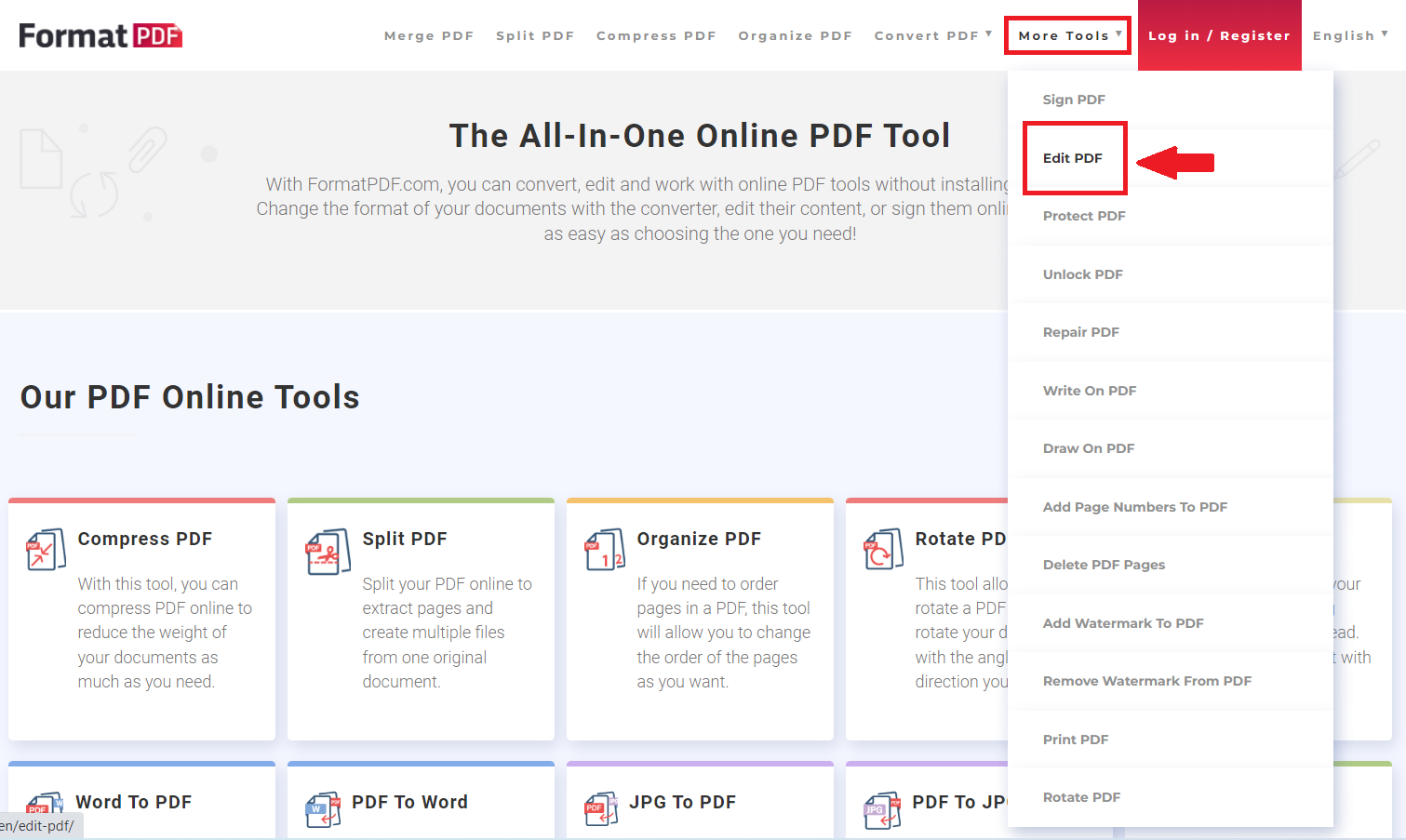 3. You will be directed to the file upload page where you can either drag and drop your PDF business plan template or manually select it and then upload it.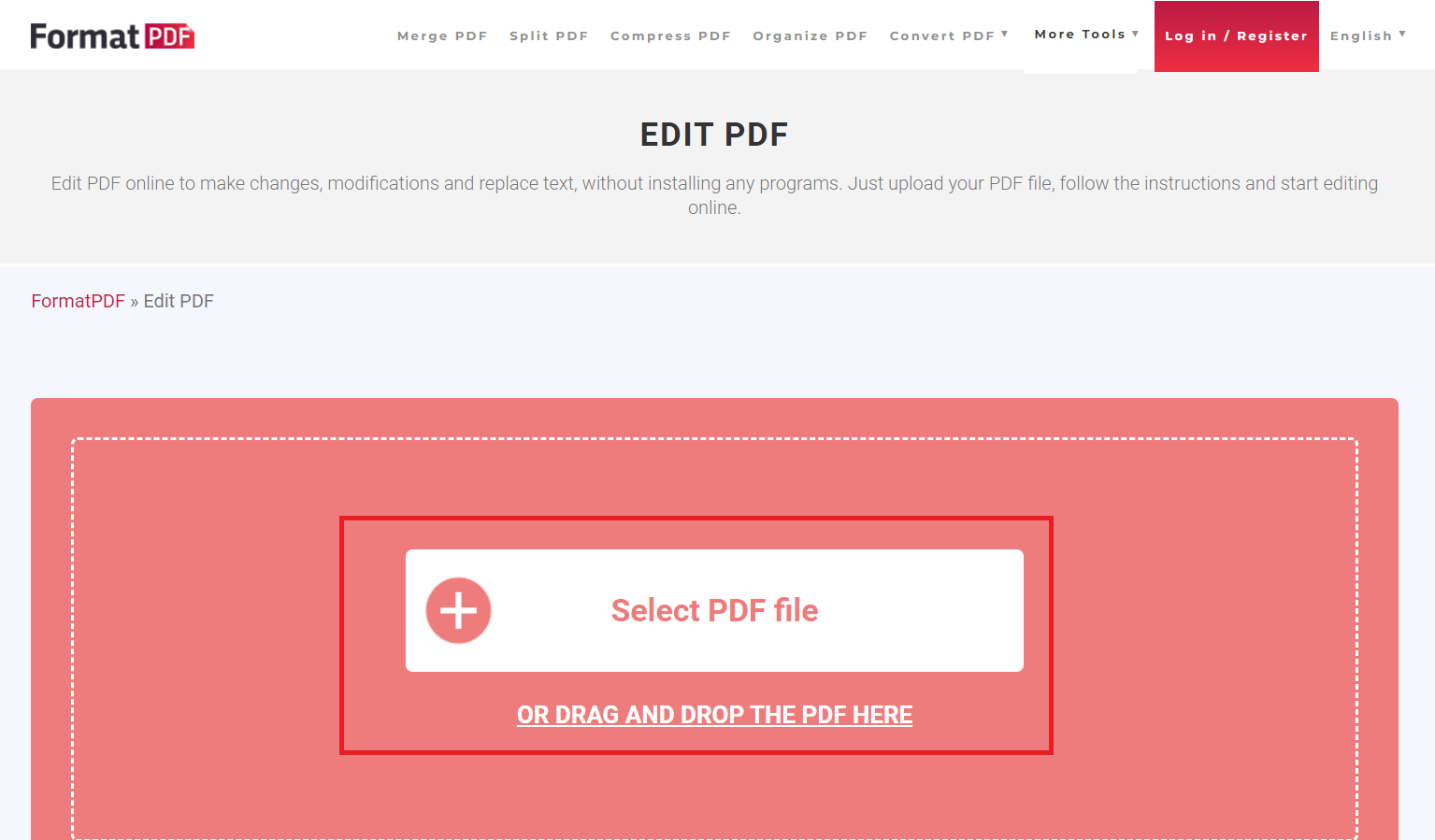 4. Once your file is uploaded, it will open in the PDF editing window.
5. Select the Text tool in the tools bar and drag the text box where you need it on the selected PDF page to get started.
6. Once you have filled up all the details of your plan, simply click download and you are ready to use your business plan.
These online sites also offer other tools that can assist you with making your business plan. For example, if you like, you can use the PDF to Word converter to turn your business plan PDF templates into Word documents to edit. Here are some other tools offered that might be of great help, especially when editing startup business plan template PDFs:
Delete Pages from PDF
If you are going for a single-page business plan, then you might want to delete some extra pages from the template. This tool can help you easily delete those additional pages online.
Protect PDF
If you want to protect your business plan PDF from being copied, edited, or read, this tool will help you add a password to it.
Repair PDF
In case your completed business plan PDF gets corrupted, then the Repair PDF is an excellent online tool offered to recover your broken PDF file.
How to Edit Your Business Plan PDF on Windows
While Windows 10 and later versions don't have a PDF editor, there is a way to edit them directly on your computer. Follow the steps below to edit your business plan PDF template:
Open the Word application on your system.
Click on File, and then click on Open.
Next, browse the file system and select the PDF you want to edit.
Once selected, the PDF will be converted into a Word document for you to edit.
Once you filled out the business plan, you can save it as a Word document or export it as a PDF file.
Editing the PDF template on Word will not make any changes to the original file. However, the drawback of this approach is that if your PDF file is not mostly text, then it might not be formatted well in the Word application.
How to Edit a PDF Template of a Business Plan on Mac
On your Mac system, you can use their native application called Preview to fill out your business plan template. Here is how to do it:
Open your PDF business plan template on your Mac system in the Preview app.
If the Markup toolbar isn't showing, then click on the Show Markup Toolbar button.
To start filling your plan, click on the Text button in the toolbar which is also accessible in the Touch Bar if your system supports it.
Drag the text box to the area where you want to add the text to your PDF file.
When you have completed your business plan, you can choose to keep the file editable or not by saving it in one of the following ways:

Save as "Export to PDF" to allow the file to be edited later. Click File > Save, File > Export, or File > Export to PDF.
To flatten the annotations, click on File > Print, then Save as PDF.
Frequently Asked Questions
Here are answers to some of the commonly asked questions regarding business plan PDF files and file editing.
Why should I save my business plan as a PDF?
PDF files are not platform dependent. That is, you can view this file on any device including your smartphone and tablets. This makes saving your business plan as a PDF a good idea. Additionally, with cloud-based PDF editing sites, you can edit these files from anywhere online.
Why is it better to use an online PDF editing tool?
Online editing tools allow you to do all the work online without requiring you to download any application or use your device's memory. Additionally, they offer many other PDF editing tools, all of which are free of cost.
Conclusion
A business plan PDF template will help you get started quickly and create a presentable plan. With the help of online editing tools, this plan can be updated anywhere, anytime, so give it a go! Before you know it, you'll have an excellent business plan, ready to get your company up and running.